Divya Anubhuti at Giriraj Govardhan Mukharwind
Divya Anubhuti at Giriraj Govardhan Mukharwind
I am at Vrindavan, Vraj Mandal. Today is 9th june 2005, a Thursday, and Siddhi Yog. We have made a program today for darshans at Giriraj Govardhan and Radhakund. At Shri Govardhan, our first stop is at a mandir, which is the original house of Saddu Pande and Naro, whose cow Dhumar had gone up on the Giriraj to feed milk to ShreeNathji. We do darshans, take Prasad and contribute to the Gaushala. Shri Mahaprabhuji's baithakji is also here.
From here we proceed for Jatipura at the 'Mukharwind' of ShreeNathji, where His pujan is done similar to darshans at Nathdwara. Bhakts are allowed to personally do the pujan, offer bhog and tilak. (Details are there later in the page)
As there is a huge crowd, we book our pujan and have to wait nearly an hour, for my turn. Our punda Ashok waits here with us, to assist in the pujan.
As my turn came, I realize how long I had been waiting for the occasion; when I could touch ShreeNathjiBaba directly. Today this strong desire and wish is being fulfilled in a different way AGAIN.
Ashok helps me with the divine pujan, Abhishek of Shree Thakurjee, GovardhanNathji. As I wash the sacred Mukhar, I find myself experiencing over whelming bhao and devotion. The 'Presence' is tremendous. We do Abhishek of the Pavitra Shila that represents the 'Mukharwind' of ShreeNathjiBaba
I am overjoyed that I could actually touch and bathe Shreeji. If one can bring the right kind of emotions and shraddha, it becomes possible to feel the Divine Presence in that moment. Then I did pujan with Tilak, offered Uparna and Dhoti, then offered mithai and mogra mala's. The mogra mala's and mithai come back to us as Shreeji's Prasad. It is the first time I saw Sudhir bhai put a tilak and wear a mala. Gurushree was the photographer as he took pictures of the Pujan.
In all of the pictures, as Gurushree showed me later, there are darshans of Bal Swarup ShreeKrishn, as "Lalan", looking upwards watching me do the Tilak on His Mukharwind. Darshans are very clearly visible, in the sequence of photos (there are seven pictures). The darshans are so "Live", that we can see ShreeNathji shaking as I pour water on Him for Snan. We can also see Him looking downwards as we offer Him a Dhoti.
At Gurushree's request ShreeNathji, in His Laalan Swarup Appears for the pujan time from His Mukharwind at Jatipura.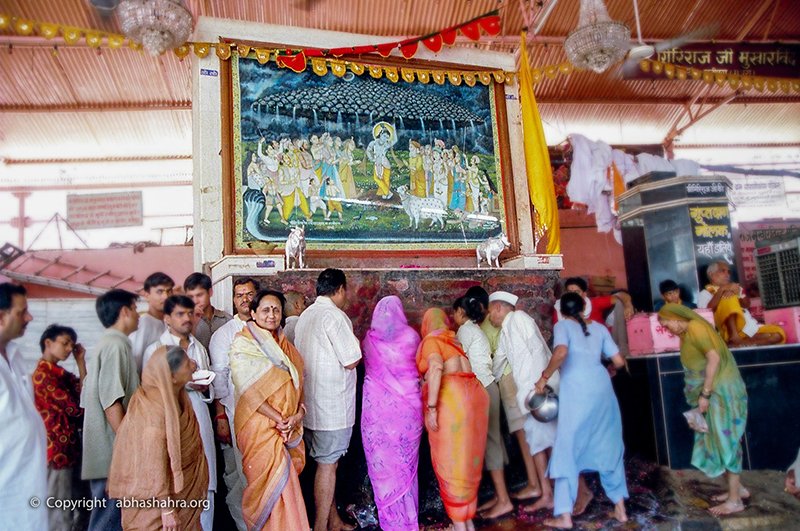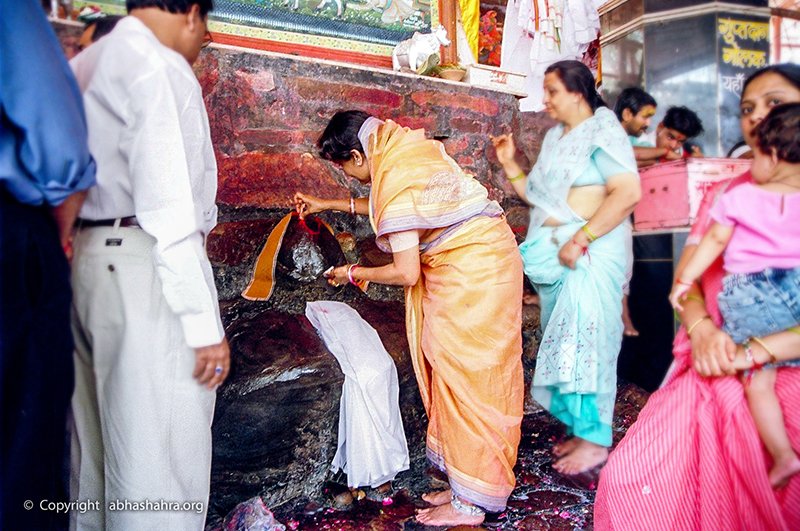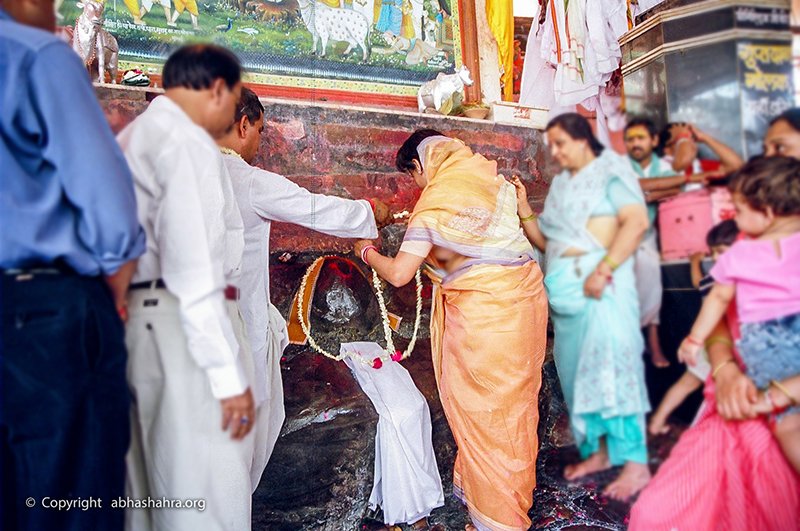 They share the Sakha bhao to the fullest, and I have been a witness to many such miraculous Plays of the Divine with Gurushree.
(Details can be read and understood in the Varta about this miraculous happening)
From here we proceed to the spot from where we can climb up on the Giriraj. We reach the actual spot where the cow Dhumar, fed milk directly to ShreeNathji. As it is 12.00 in the noon, its extremely hot with the temperature of 46*C.
The Giriraj is burning, and it takes some persuasion from Gurushree,for me to want to climb up; we have taken off our chappals, and it is like walking on hot coals. Miraculously, once on the exact spot of Shreeji Pragatya, it is a totally different feeling. At my request we all decided to sit for a while and though it being very hot, the peace experienced there is out worldly. If Gurushree Sudhir bhai had not insisted to leave I don't think I would want to get up in a hurry. May be Shreeji has accompanied us up here and enjoys Himself at His Appearance Sthal.
Once down we have to bow and ask forgiveness for having stepped on the sacred Giriraj.